Last Updated on 16th December 2021
After two years of things feeling not quite normal, we're all looking forward to a bit of family connection this Christmas. While the festive period is normally a time of joy it can also be a time of reflection. Some people may be reflecting on complicated feelings or experiences that might make them want to pull away. To help you stay connected to those you love, our team has created the following guidance.
Here are 5 Ways you can Have a Healthy and Connected Christmas:

1. Talk It Out
We live in a seemingly connected world where we continuously communicate with others. But a study by Age UK claims that more than half (57%) of the UK population 'bottles up' their worries and problems. If anything this figure has risen during the pandemic. After two years of lock downs and false starts, mental health services are overwhelmed by people of all ages needing help.
Talking about our worries, problems, and concerns can help us feel more supported by those around us and less lonely or isolated. When you ask someone how they're doing this holiday season and they answer 'fine' – why not ask them how they're really doing.
Using open questions in your conversations can improve the quality of your relationships and help you feel more connected to others. Try asking things like:
It's been a rough two years. How have you been coping?
What are your hopes for this new year?
How has your family been handling the recent changes?
The pandemic has brought shared suffering and frustration, with everyone being impacted in some way. Some people may have suffered a great loss and could be facing their first Christmas without someone they loved. Choosing to talk these complex emotions out with one another will help you feel closer and more connected.
If you'd rather not talk to someone you know or feel like you aren't ready yet, check out the resources at the bottom of this page.

2. Practice Mindfulness
Mindfulness is all about being calm, present, and focused on what's around you. There are lots of ways to practice mindfulness. There are creative activities, exercises, or meditations. There are even apps to help you through whatever you choose! You can find these mindfulness apps on any app store for free or to purchase. They play relaxing music and use guided meditations designed to help you practice. You can also download our Emotions Journal and Gratitude Journal to help the young people in your care learn important practices that will help them thrive.
Mindfulness allows us to develop healthier, more compassionate responses to our own experiences and lives. This helps us help those around us. Some people associate mindfulness with spiritual practice, but scientists agree these practices do improve our general health.
You can read more about mindfulness on Mind's Website and learn more about mindfulness in the videos below.

3. Develop a Self-Care Routine
Christmas is usually a time of intense socialising, busy family gatherings, and financial pressures. These strains may look a little different, with more online gatherings than in-person meetings or plans that change because of symptoms or illness. Developing a set of activities you can schedule to practice self-care will support you and your family in having a healthier Christmas. This is not a selfish thing to do. Rather, by taking care of yourself, you will be able to meet every event with a refreshed attitude.
You might want to schedule pampering sessions, family walks, alone time, or relaxing activities you enjoy. Make sure you have enough of these during the holiday period to keep your energy levels topped up and your resilience in check.
If you remember one thing, it should be this from the Mental Health Foundation:
"Balance your sense of social obligations against your need for self-care."

4. Create Structure
These last two years, some of us have described feeling knocked off balance. This sense of anxiety and uncertainty has been a significant challenge for those with new or existing mental health concerns.
Researchers have found that routines can have far-reaching psychological benefits. Routines are particularly important for children, young people, and anyone who may be feeling overwhelmed. Creating a schedule can help you and others be productive, feel more secure, and less stressed.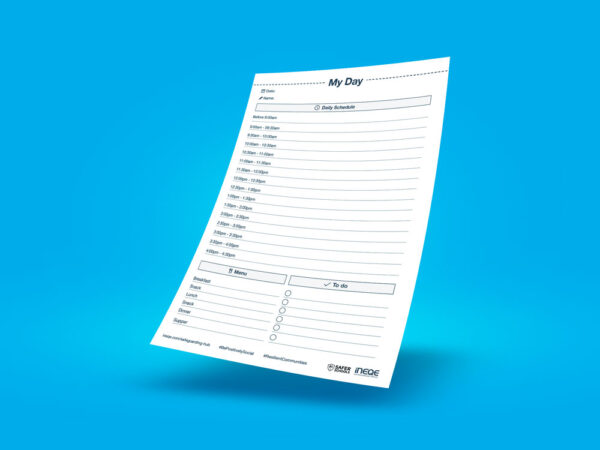 Scheduler for Lower Primary
Download this flexible visual daily schedule for reliable family routines.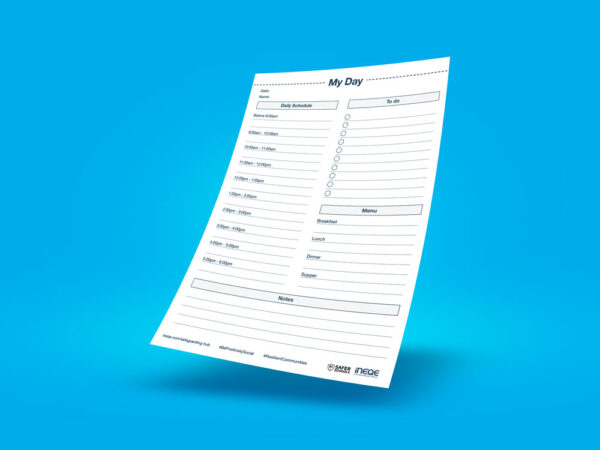 Scheduler for Upper Primary
Download this flexible daily schedule for reliable family routines.

5. Connect With Others
Almost everyone has had some form of restriction placed on where they go or who they could see at some point over these two years. With new variants and work circuit-breakers, might not get to see everyone this Christmas.
Create a 'catch up' schedule to plan video calls with friends you would see around Christmas in normal times. You can do these all back-to-back or slot them into your Christmas plans.
Send a message to someone you care about but might not see this holiday season.
Check out interactive apps you could use to play games with friends and family members who are not able to join you.
Check out Our Safety Centre for more information on the features and safety settings on these platforms.