Last Updated on 28th November 2022
TikTok has released a new (but familiar!) feature within their app called 'TikTok Now'. Our online safety experts have taken a look to assess what TikTok Now is, the safeguarding concerns that come with it, and the comparisons it has to the popular photo sharing app BeReal.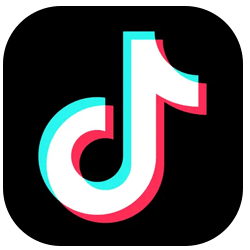 What is TikTok Now?
TikTok Now is a newly released feature on the video-hosting social media platform TikTok. It was originally launched in the U.S. in September 2022 but has now been added as an update to apps in the U.K. and will soon roll out to other regions.
TikTok describes the new feature as:
"TikTok Now invites you and your friends to capture what you're doing in the moment using your device's front and back camera. You'll receive a daily prompt to capture a 10-second video or a static photo to easily share what you're up to."
If all this sounds familiar, it's probably because of BeReal, the app that has seen explosive growth in popularity over the past year (over 1000% increase in downloads!). Just like TikTok Now, BeReal aims for users to share the realities of their lives, rather than curated and carefully edited content, as often seen on platforms such as Instagram.
Both platforms use similar methodology to encourage their users to showcase the 'real' side of their lives, including:
Limiting user's uploads to once a day.

Randomly timed prompts so users can't predict when they'll be asked to create content.

Short time limits for uploading (two minutes for BeReal and three minutes for TikTok Now) …so there's not enough time to jump up from lazing on the sofa and get to the nearest trendy restaurant or halfway up a mountain hike!
However, there are also some key differences between TikTok Now and Be Real.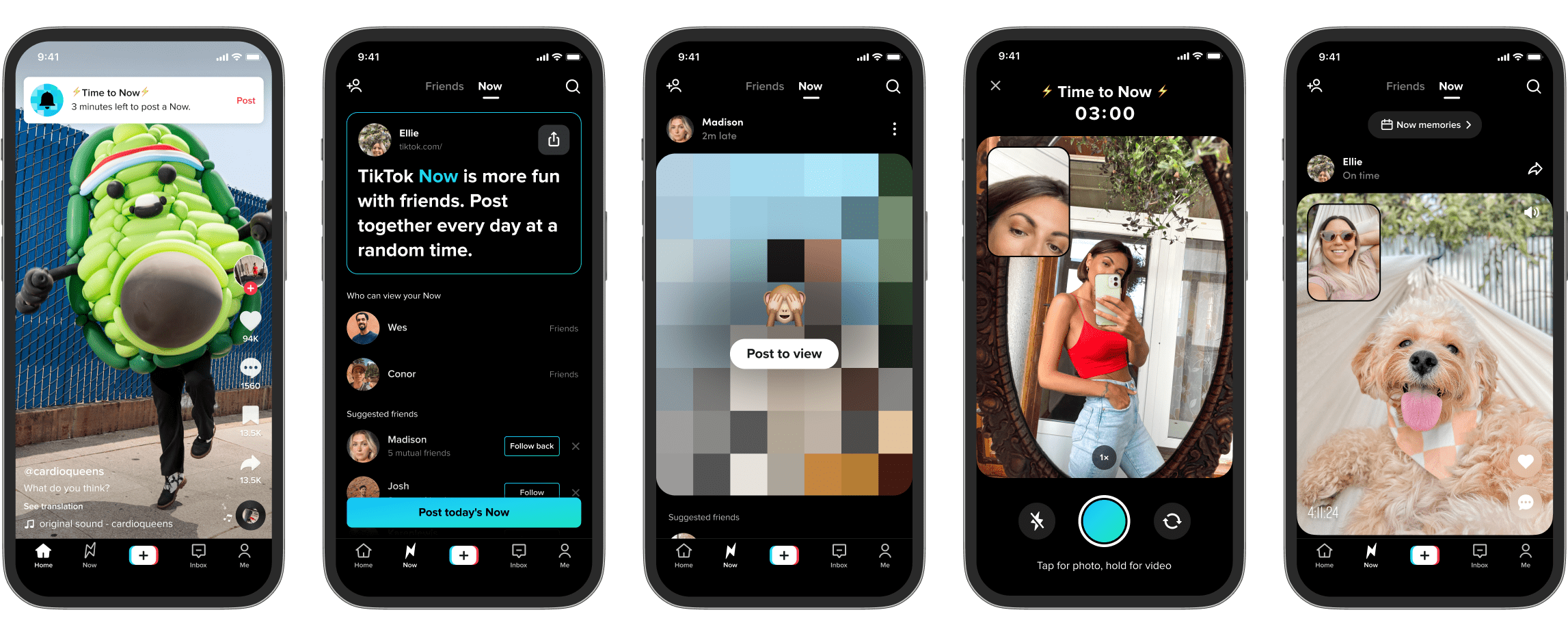 What Are the Differences Between TikTok Now and BeReal?
| Feature | BeReal | TikTok Now |
| --- | --- | --- |
| Ability to comment on stranger's posts | ✗ | ✓ |
| Time window given to post within | 2 minutes | 3 minutes |
| Type of content users can post | Photo | A 10-second video or a photo |
| Location sharing | ✓ | ✗ |
| Viewing how many times a photo was retaken before posting | ✓ | ✗ |
What Are the Differences Between TikTok Now and BeReal?
What Are TikTok Now's Safety Features?
By default, all TikTok Now posts are private and only shown to friends and followers. To share posts publicly, users have to change settings to be shown to 'everyone'.

The option to show to everyone is not available to users under 18-years-old.

To "protect against unwanted interactions", TikTok say people aged between 13- to 15-years-old will only be able to post comments on their friend's photos or videos. However, our online safety experts found that a testing account for an under 18-year-old could view, comment and interact with strangers' posts.
Use the safety settings first.

As it is unclear at this time whether it is a common error allowing under 18-year-olds to interact with strangers on TikTok Now, make sure you check this for yourself on a young person's device. If you know they are using TikTok Now, talk to the young person in your care about ensuring their post is shared only with their friends, as well as what they should do if a stranger interacts with them online. Make sure they know how to block, delete and report someone on TikTok. Visit our

Safety Centre

to find out more.

Talk about safe sharing. Without naming the feature, find out if the young person in your life knows what TikTok Now is. For example, you could ask them how often they post on social media and what sort of things they post. Keep the tone casual. Then, have a conversation about sharing safely online. Discuss how it's not important to keep information about your location private but also details about their personal life, including emotional moments.

Remind young to check, check and check again! We encourage all users of social media to analyse their photos and videos before uploading to the internet, as you may be giving away more information than you realise. Talk to the young person in your care and remind them that, even though TikTok Now and BeReal have tight time limits, it's essential they check every photo and video for private and personal information before they upload it.

Practice fun TikTok Now content ideas. Together come up with some fun ideas of things you can share! For example, nature photos that don't identify a particular location or pet videos that don't include any names or addresses on a collar. You could also practice some fun photo techniques that can be done quickly and look 'arty', such as close-ups of different textures, playing with contrasting colours on materials nearby or taking funny selfies. Having alternative ideas for photos could help alleviate the time-limit pressures that could cause a young person to share content in a rush.
Join our Safeguarding Hub Newsletter Network
Members of our network receive weekly updates on the trends, risks and threats to children and young people online. 
Sign Up