Last Updated on 29th May 2021
Date Published: 21st May, 2021
If you have a gamer in your household, chances are you've heard the word "Twitch" being used. The name sounds fun, age-appropriate, and harmless and it would be easy to assume it is a type of game or a new slang word.
In reality, Twitch is a far more complicated platform that can expose children and young people to age-inappropriate content in a hard-to-control environment.
This article will take a closer look at how Twitch works and what you need to know to help keep your children and young people safe – make sure you read to the bottom to catch our top tips.
Age Requirements
Twitch guidelines state users must be at least 13 years old to register for an account. They also ask that anyone under 18 is authorised by a parent or guardian who agrees to the terms and conditions.
However, there is no effective age verification process upon signing up for an account and you do not need an account to browse video content on Twitch. This is a concern, as the unpredictable nature of livestreaming and open chat can easily lead to accessible mature content.
How Does it Work?
Twitch was created specifically for live footage broadcasters (livestreamers). It houses a variety of video content, such as cooking classes, workout routines, and traffic footage. The majority of livestreams, however, are gamers. Popular games like Among Us and COD: Warzone can be found on the home page, but any game (or theme) can be searched for on the platform.
With an account, you can follow streamers, comment on videos, use streamer chat rooms, and subscribe to your favourite channels. In addition, Twitch has a direct messaging system called "Whispers," which allows any user to communicate with another user, even if they are not friends on the platform.
Safety Settings
Twitch has reporting and blocking tools available to its users

Users can block receiving messages from users who don't follow them

Explicit language filters can be used to moderate language in a livestream chatroom (this is not perfect, however, and some language can still get through)

Users can pause or hide the livestream chatroom for themselves

All profiles are public and cannot be made private – this means anyone can view another user's profile at any time

Anyone can access and watch livestreams without registering

Currently, there are no parental controls or "time limit" settings on Twitch
What Are the Risks?
Age Restrictions
As there is no effective age verification, there are limited restrictions on the video content that an underage viewer may see. Violent video game footage, explicit or derogatory language, and 18+ in-game content can be found on the home page. Our testers also found videos on the home page featuring female streamers in bikinis gaming from inflatable hot tubs – a common trend on Twitch that has attracted controversy.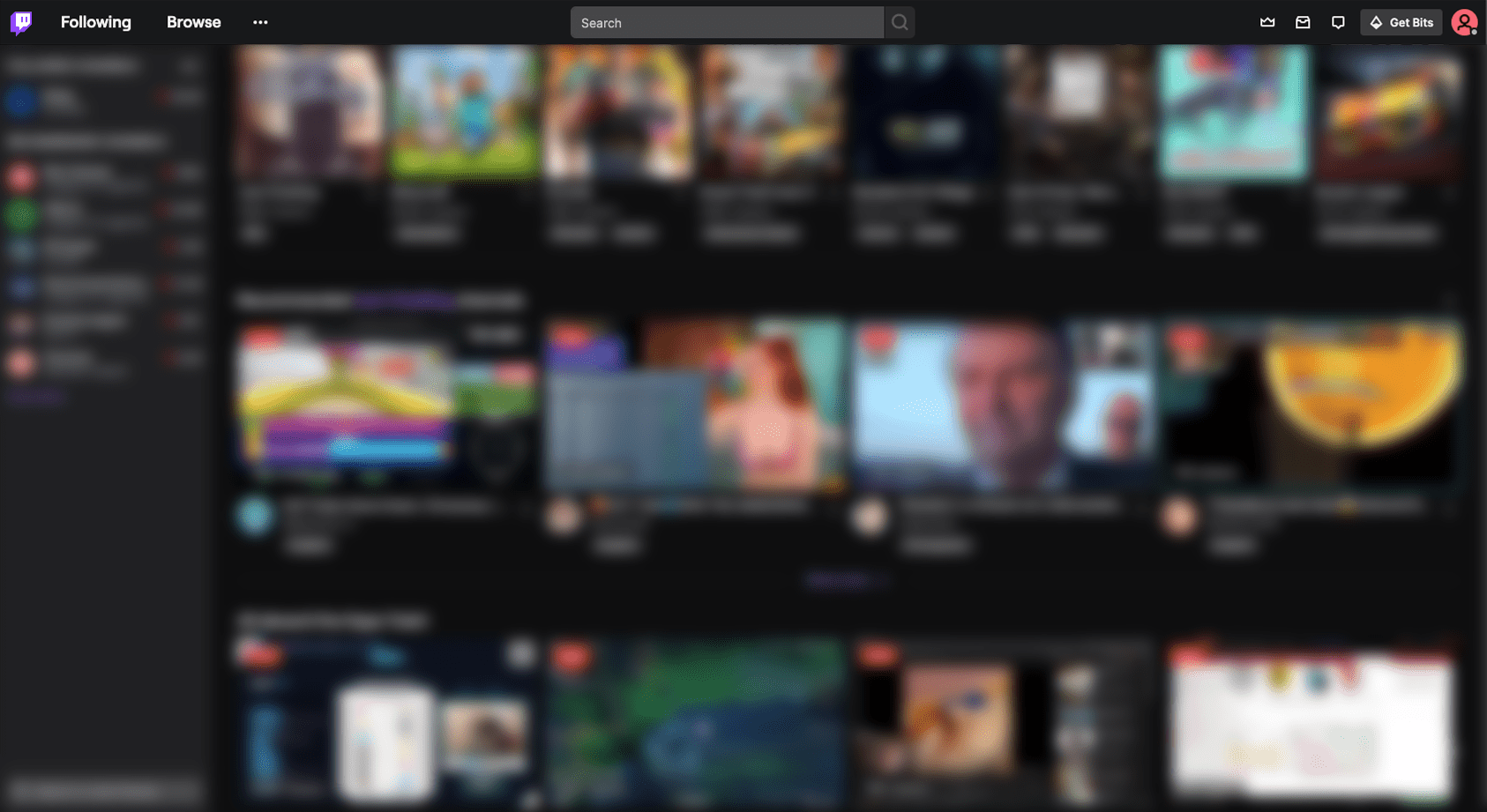 In-Appropriate content
Some livestreamers regularly push the boundaries of what is appropriate to encourage subscribers to send more money, such as performing squats in a bikini from a suggestive camera angle for every £5 pledged. Livestreamers can set a "mature content" warning message that pops up before users begin watching the livestream. If a user clicks OK, they are taken directly to the livestream.
Even if the content itself seems appropriate, the live chats and chat rooms are largely uncensored. Inappropriate language is widespread, with trolls (online users who deliberately provoke others by saying inflammatory and offensive things) often invading specific chats. Users can hide the chat alongside the streams, but they cannot turn it off.
Stranger Interaction
The "live" nature of Twitch naturally increases any user's interaction with online strangers. Because there is a common interest, a vulnerable child or young person may come to think of another user they have "met" via livestream as a trusted friend. This rapport could be exploited to groom a vulnerable child or young person.
Gifting and Spending
Some children or young people may feel pressured or manipulated into sending money to their favourite streamersby other users or by the streamers themselves. There are multiple examples of this, most notably a streamer who was able to buy and furnish an entire house via donations.

Join our Safeguarding Hub Newsletter Network
Members of our network receive weekly updates on the trends, risks and threats to children and young people online. 
Sign Up