Over 50% of NI Schools are making every day a Safer Internet Day with Online Safety App
Schools across Northern Ireland will be marking Safer Internet Day on 8th February by launching their new online safety App, Safer Schools NI. In partnership with the Department of Education and INEQE Safeguarding Group, Safer Schools NI has been made available to all schools in Northern Ireland for free.
Launched in November 2021, by the Education Minister, over 50% of schools in Northern Ireland have now signed up to the app and are helping to make everyday a Safer Internet Day for their school community.
Safer Schools NI
Safer Schools NI is a digital safeguarding communication toolkit full of online safety resources, up-to-date advice and guidance, available to school staff, parents, carers and pupils.
It's curated by INEQE Safeguarding Group's online safety experts, led by founder and former head of the Child Exploitation and Online Protection Command (CEOP) Jim Gamble QPM, and a national editorial panel of educational professionals across Northern Ireland.
NI Schools can access a customised version of the app for their school community while benefitting from free resources, lessons and CPD certified training for school staff.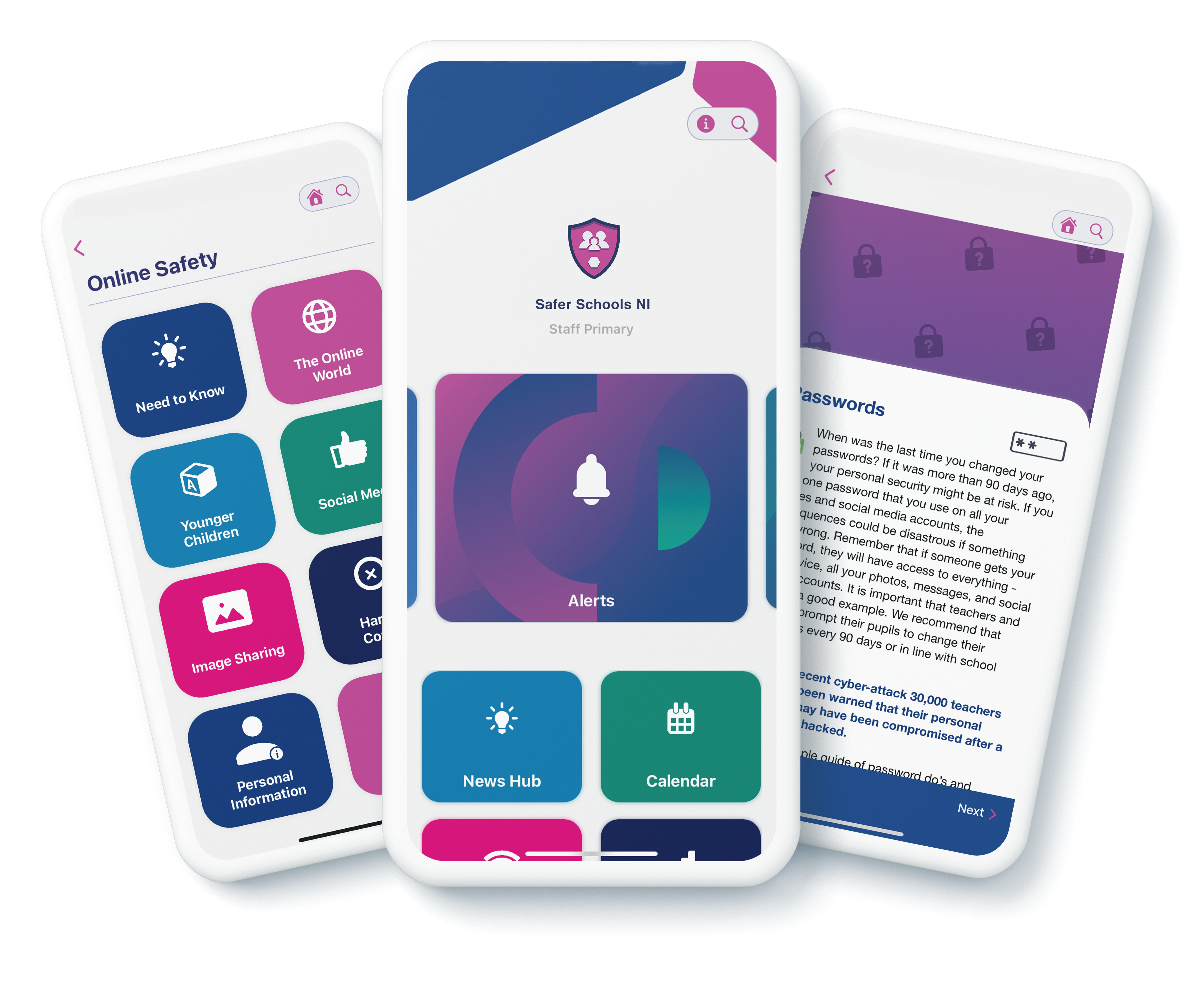 Benefitting School Communities Across NI
Safer Schools NI is bridging the gap in online safety in Northern Ireland. An Ofcom report found parents in Northern Ireland felt they did not know enough to keep their children safer online and were more likely to have concerns about their children's online use (this includes their child being bullied or exposed to online content), compared to those in England and Wales.
The App helps staff, parents and carers get to grips with social media and various gaming platforms. You can learn about the latest buzzwords, the risks they might pose and how to set privacy and safety settings for your child or young person. Curated with age-appropriate information on bullying, image-sharing, mental health, consent and healthy relationships, Safer Schools NI provides practical tips on how to support and talk to the children in your care facing these challenges.
In 2020, a report found that 4.7% of 11–19-year-olds in Northern Ireland met the criteria for problematic social media usage, with incidences higher among girls and teenagers.
Colin Stitt, Head of Service at Safer Schools NI comments,

"Educating and Empowering children and young people to be safer on the internet every day is at the heart of Safer Schools NI. In our experience, the best way to make children safer, is to provide staff, parents and carers with the advice and help they need. From navigating the emerging risks of the latest TikTok challenge to protecting young people from harmful content in gaming platforms, Safer Schools NI is there 24/7, when you need it, where you need it – it's on the device in your pocket."
Education Minister, Michelle McIlveen MLA, says,

"I am delighted that so many schools have already signed up to Safer Schools NI. Online safety for children and young people continues to be an area of concern; the Safer Schools NI app enables everyone in the school community to be kept up-to-date with the information and advice they need to help their children and young people to stay safe online. I would strongly encourage schools to register for Safer Schools NI if they haven't yet already and if you're a member of staff, parent or carer, download this App for free today."
Download Safer Schools NI for Free
Make everyday a Safer Internet Day by downloading the Safer Schools NI App today from the App Store and Google Play Store – search "Safer Schools NI". If you're a school in NI, register for free here.